season for blooming
name's finley! or fiffle! or fifley! or just fif. or my partner's wife, or my girlfriend's wife. whatever's cool with you is cool with me! be sure to check out my dni first though!

here is where you can find all you need to know about me! stuff i like, stuff i do! everything in between!
discord: fiffle#1994
BACKGROUND: Scenery painting from Interstella 5555: The 5tory of the 5ecret 5tar 5ystem by Daft Punk and Leiji Matsumoto.
i bang on synths, for one!
i'm an electronic musician! i operate mainly under the alias VCRSLOT, though i'm also known as Clarity Sines.

what do i make? well:
chillwavehousedoswave (think "neo cali" by the homie vektroid)synthpopambientdowntempo/IDMhip hopvaporwave (not very often, i used to though)
i'm always happy to collaborate with people and remix songs! just send me an email! :D
i'm very fond of visual art!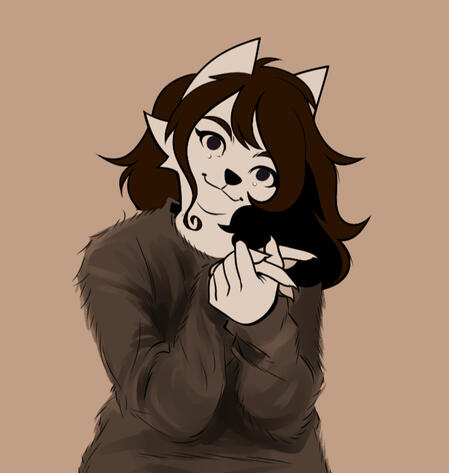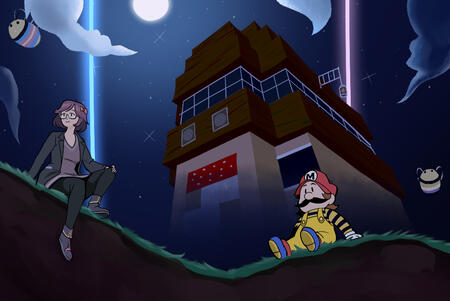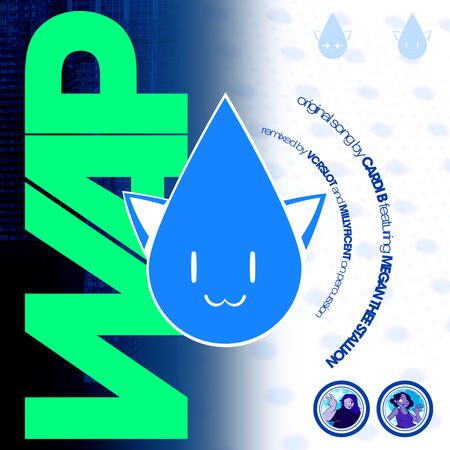 i'm also an illustrator! my artwork alias is CATHODEGAYTUBE! though some of my works are under the name "yxfferwave", which i very much do not use anymore...
i dabble in graphic design, also. i make a fair amount of the visuals accompanying my music and will gladly provide those services too!
you might know me best as the artist who revived xenia the linux fox!
more of my work can be found on twitter and instagram!! commissions are open, also! :)
quien eres?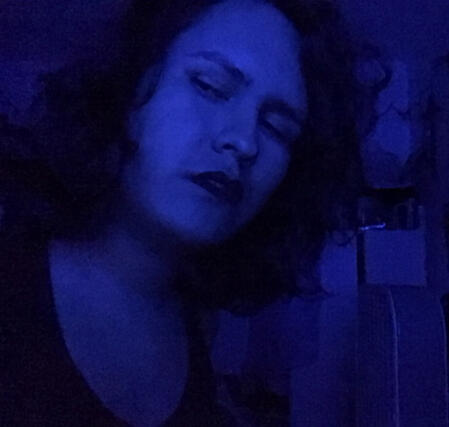 my name is finley isobel beatrice sinclaire! my name is long but i love every letter and that's all that matters

i am:
sapphic bisexuala trans woman (she/hers pls)20 at the moment!mexican! oooooooh
i try my best to be as kind to people as possible. the world wasn't particularly nice to me growing up so i might as well work to make sure that doesn't happen to others. that's why i'm a communist, also. since a lot of that unkindness came out of being poor as shit and having the background i do lmfao.

i have a whole page of stuff i like so i'll keep it brief! i'm into electronic music, animation/illustration, graphic design and visual aesthetics, fashion, old technology/video games, the outdoors and flowers, big urban areas, and very cute things.

i'm also autistic! not professionally diagnosed because i'm poor and can't afford it, but, yeah. that on top of trauma and borderline personality disorder explains why i'm like that, which is why i want to apologize in advance. please be patient! ;;
my headphones... they saved my life
here r my fave musicians!
BjörkVektroidBlack Moth Super RainbowDaft PunkToro Y MoiA Tribe Called QuestBoards of CanadaOutkastAphex TwinGorillazSamiyamJ DillaTatsuro YamashitaTyler, The CreatorSlum VillageEarl SweatshirtTobaccoMassive AttackJneiro Jarel/Dr. Who Dat?Flying LotusAstroblurSatanstompingcaterpillars
a more complete list can be found on my rarely used RYM page!

and genres!
hip hophouseambient/idmglitchchillwavevaporwavepsychedelic rocktrip hop
i'm not very picky! i'm very open to recommendations!
odds & ends
as i mentioned before! i'm autistic! music is one of my big special interests, but here's some others!

GAMES:
the mario series! (3 and odyssey r da best imo)animal crossing!yoshi's island. like, the first one in specific. means a lot to me <3sonic da hedgehog babey.... (CD is my fave)jet set radionight in the woodsspace channel 5undertale/deltarunenights into dreamstony hawk's pro skater/underground/thugpro
MISC THINGS I'M [ARTICULARLY PASSIONATE ABOUT:
homestuck/mspa (i know ...)stylized art stylesold technology, specifically computers and video gamesdesign languages and aestheticssanrio (pompompurin is my favorite!)jamie hewlett's artworkanimation! (i know an alright amount about like, 70s cartoons to now!)synthesizerssampling in musicetymology and linguistics
liquid hellavision
i very much enjoy the act of "sitting here by my tv." i've been watching it very much lately because i'm on holiday... and i've been seeing all these programs about all sorts of things.

ok for real here's what i like 2 watch, starting w

not anime:
my life as a teenage robotadventure timespace ghost: coast to coastany of the offerings from CTW in the 70s-80s. 3-2-1 Contact and The Electric Company rocked my shit as a kidloiter squadregular showkitchen nightmaresthe owl house12 oz. mousethe powerpuff girlsthrow any syndicated disney show from the 90's at me i guarantee i've seen it front to back. goof troop + recess especiallysteven universe was p alright 2fond of hanna barbera's offerings too. 2 stupid dogs n swat kats in particular helped shape my childhood lolrocko's modern life is a good1 tookenan & kelok k.o. let's be heroes was neatspongebob (this was a given tho lbr)george lopezforensic filesseinfeldman i'm really indiscriminate abt what i watch huh fdhddfk
anime:
interstella 5555neon genesis evangelionakiraserial experiments lainflclaggretsukoperfect bluemoomin (1990)paprikatenshi no tamagocaptain harlockbubblegum crisisyu yu hakushodragonball (mostly the original + Z)ranma 1/2sailor moon
filme:
parasitespider-man: into the spiderversejohnny mnemonicuncut gemshausua goofy movie (and the sequel)electromaherghostbusters (1 and 2, the reboot's alright too)speed racer (2008), one of the best movies of all fucking timemy own private idahothe juniper treeDOPE with shameik moore
steer clear from me if
you're a transphobe/transmedicalist/terf. don't think there's anything else that needs to be said hereyou're racistmisogynists kick rocksyou're one of those "anti-anti" types. pedophilia/incest/etc is still pedophilia/incest/etc even if it's fictional. get a fucking gripif you still peddle ace/bi lesbian discourse in the current year of our lord i implore you to seek a hobby. like i'm well past caring about either side at this point dogg it's just irritatingcub/pear/childhood sexualizer/pear types go to hell and die in that orderanti-communists get bent i have a hammer and sickle in my bio for a reason lol